COVID-19: We're here to help
We hope these tools make the healthcare community's lives easier.
May 11, 2020 | Hospital Solutions
---
As we all continue through this pandemic, our hearts and gratitude go out to those on the front lines. As a company, we're striving to bring tools that make the healthcare community's lives easier.
This week, we launched Doximity Dialer Video, a simple and secure way for physicians to place video calls with their patients -- straight from the Doximity app.
The COVID-19 pandemic has dramatically accelerated the need for telemedicine. Since introducing the feature in our beta testing program last month, 100k doctors and HCPs are regularly using Dialer Video for patient video visits across the country!
More Time For Medicine
Unlike other telemedicine solutions, patients don't need to download any other apps or software -- they just tap a link to join.
"I am a cardiologist and many of my patients are over 80. During the pandemic, the ease of use of Doximity has helped keep my patients at home but continue their cardiology care." Michael O'Toole, MD, FACC
We've made it easy for patients to join video calls so physicians can spend more time with their patients (and less time on tech support).
How it Works in the Doximity App
Enter your patient's number.

They get a text to join the video call.

That's it.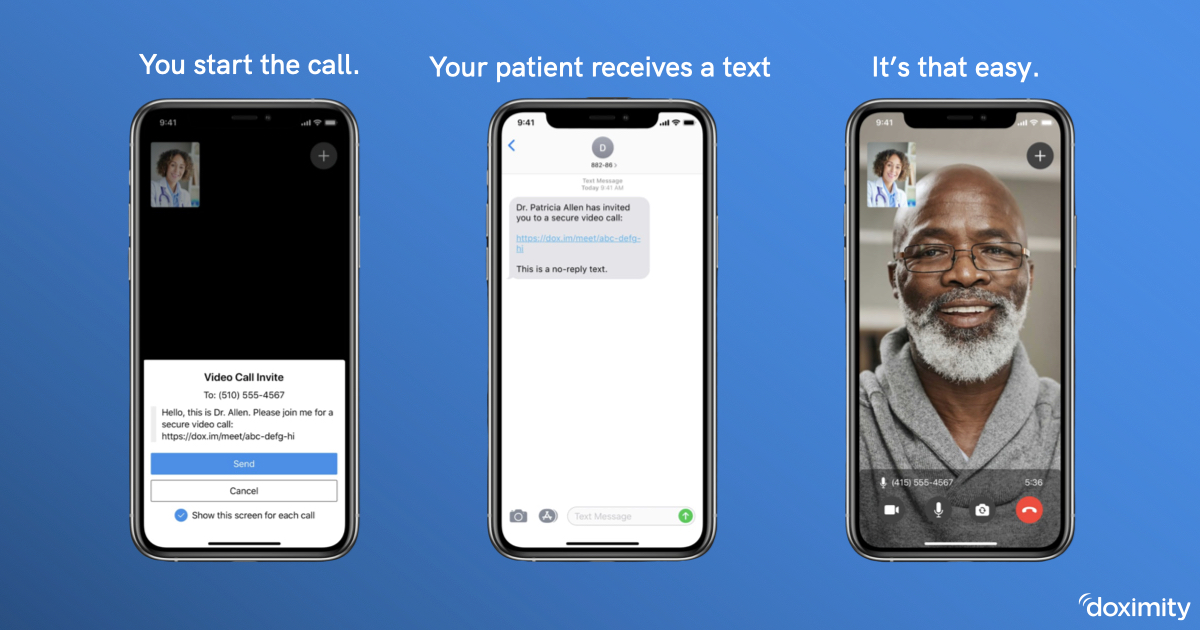 Physician-Focused, Patient-Centered
Custom CallerID.

You can set the CallerID to your hospital or office number, which makes it more likely that patients will recognize the caller and pick up. The doctor's private cell phone number is always protected.

Full HIPAA Compliance.

Patient calls are encrypted, kept private and never recorded.

Epic Haiku integration

. Initiate calls to patients seamlessly from within Epic's mobile electronic health record app.
To help doctors during the COVID-19 crisis, Dialer Video is and will remain free for doctors. A paid enterprise version, Doximity Dialer Pro, is available now for hospital-wide deployments including custom BAAs. In addition, other features of the Doximity app have been extended to our physician members' care teams. Dialer Video and Dialer, Doximity's secure voice calling feature, are now available to nurses and other healthcare professionals to better equip them to care for patients while they work remotely or in clinical settings.
Video calling is available now in the Doximity app for iOS and Android and can be downloaded here. Dialer Video resources (how to start using it, group video calling, what to send your patients, and more) can be found here.
In addition to Dialer Video, Doximity is happy to provide these resources for the healthcare community during COVID-19.
Free Dialer access expanded to all U.S. healthcare staff
Dialer in the Doximity app, historically available only to physicians, NPs and PAs, has been scaled up to support everyone in your entire workforce through 2020. Physician-led care teams can now call patients from their cell phone while displaying the office/hospital number on the patient's Caller ID. Your remote and on-the-go productivity is important for patients, which means it's important to us. Healthcare professionals can request access to Dialer at: https://doximity.com/care_team. If you're looking for Step by Step instructions, please go here.
Physician-curated COVID-19 news and peer commentary
Our editorial team has curated a private COVID-19 newsroom for clinicians to access timely, aggregated updates and recommendations from across the medical profession, while privately sharing and discussing new research, treatment, and best practices. We'll also continue to publish and disseminate member perspectives sharing direct experience and ideas from the front lines.
Free COVID-19 job posts to address surge capacity
To help your facilities manage medical staffing surge needs, we're offering free job posts for COVID-19 related staffing. Just fill out the form here. We'll then tap our network to distribute your openings to appropriate clinicians based on location, specialty, and any other requirements. We'll direct applicants immediately to the contact info you provide. You can see the list of open COVID-19 positions here, updated as soon as we get them.