Physician Hospital Satisfaction
A Head-to-Head Comparison
Dec 14, 2021 | Hospital Solutions
---
The votes are in, and Cleveland, Boston, and Houston lead the way. These three cities were rated the best metros for workplace satisfaction, according to an analysis of 11,000+ Doximity physician hospital reviews.
This Head-to-Head winter report follows our summer report, which looked at workplace satisfaction by gender, age, and specialty. Both reports leverage Doximity's Workplace Navigator, which features verified physician ratings and free-text reviews of U.S. hospitals.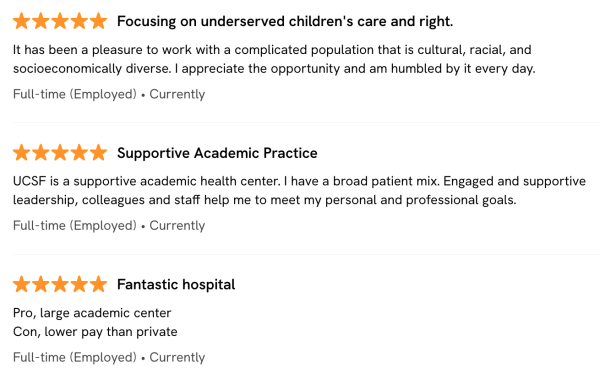 Fig. 1.

Sample Hospital Reviews.
If you're a graduating resident, a fellow looking for your first job, or an established physician looking for a change of scenery, our analysis can highlight which cities have the happiest physicians, as well as prominent hospitals within each city. Here are five key findings.
1. Workplace satisfaction varies by metro.
Across 20 top U.S. metros, Cleveland, Boston, and Houston doctors were the most satisfied at work, with Seattle (not shown), Miami, and Tampa doctors the least satisfied.1,2 Results were similar for ratings of support staff and collegiality.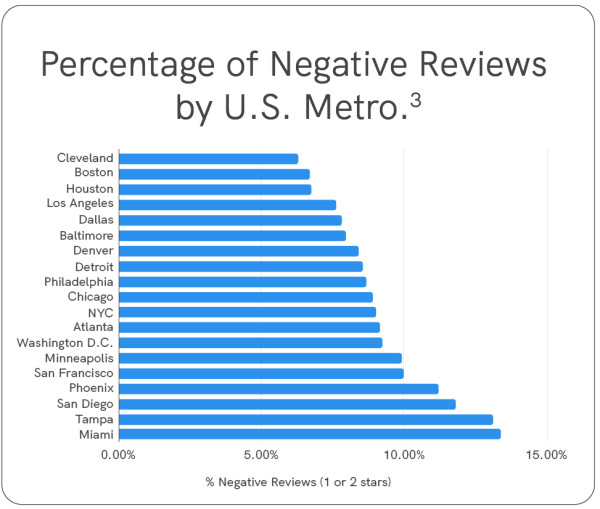 Fig. 2.

Percentage of negative reviews by U.S. metro.
Major academic medical centers (AMCs) helped power top cities' favorable ratings. Over 90% of doctors rated the Cleveland Clinic, Massachusetts General Hospital, and Baylor St. Lukes highly, driving those respective metros to podium positions. Even in lower-rated cities, many AMCs are still rated highly, such as UC San Diego or Mayo Clinic (Phoenix).
Our findings align with prior Mayo Clinic research finding doctors at AMCs experience less burnout. Feeling valued, being treated with respect, and working in a supportive environment are key drivers of workplace satisfaction at AMCs, per a JAMA Internal Medicine report.
2. Where are doctors happiest? It may depend upon specialty.
To allow for more granular analysis, we then focused on six large U.S. metros: Boston, Chicago, Houston, Los Angeles, New York City, and San Francisco.
First, we found that city-level findings don't tell the whole story, with San Francisco a canonical example. Bay Area proceduralists were most satisfied (89% positive reviews) across these six cities, but Bay Area PCPs (72%) were least satisfied.4
The Bay Area is home to two world-class AMCs in UCSF and Stanford, so it makes sense that surgeons rate it highly. But could the region's staggering income inequality explain why PCPs rate it lower?
Perhaps PCPs are most impacted by patients' social circumstances, and thus suffer the most burnout. As evidence, one recent study of PCPs found that their clinics' capacity to address patients' social needs predicted greater professional efficacy, lower emotional exhaustion, and lower cynicism.
Unfortunately, Bay Area affordable housing is so lacking as to require a $1.5-trillion, 30-year remediation plan, and the K-shaped economic recovery has hit the Bay Area especially hard. So the problem may get worse before it gets better.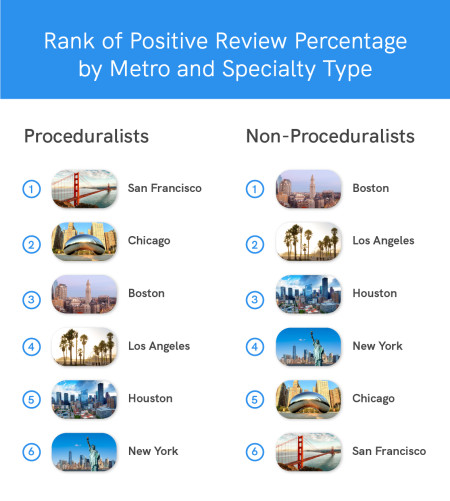 Fig. 3.

Rank of positive review percentage by metro and specialty type
3. Career stage predicts workplace satisfaction.
While Boston, Houston, and L.A. are all among our highest-rated cities (Fig. 2), the cities take different paths to get there. Boston and L.A. are most straightforward, ranking highly regardless of career stage. Meanwhile, Houston's ratings from early- and mid-career physicians don't stand out, but their late-career ratings are stellar.
Perhaps relatedly, Houston's home costs are easily lowest of the six cities on the list. Per Doximity's Salary Map, an average Houston internist requires just 2.7 years' salary to own a home. Compare that to 7.5 years in Boston, 8.2 years in Los Angeles, or 16.1 years in San Francisco, which ranks last among mid- and late-career physicians.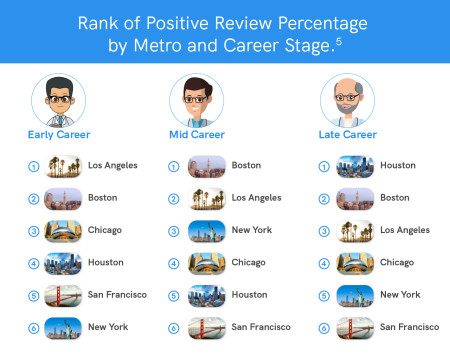 Fig. 4.

Rank of positive review percentage by metro and career stage.
4. Similar hospitals usually earn similar ratings.
Finally, we compared two major hospitals within each of these six metros. Most of the comparisons were fairly strong and thus fairly even, with Boston a notable exception. There, Massachusetts General Hospital (MGH, 94% positive vs. 3.7% negative reviews), the best-rated of our 12 compared hospitals, clearly outpaced Brigham and Women's Hospital (BWH, 80% positive vs. 14.6% negative reviews).
MGH ranked well across the board, earning 4.7 of 5 stars in ratings of both culture and support staff. Reviews frequently cited a familial culture, and multiple reviews specifically praised leadership.
Of note, MGH's leadership is physician-heavy. MGH's president and five board members are doctors. Mass General Brigham, the parent organization, also counts five doctors on its board, including the CEO and COO.
While other hospitals may not be able replicate MGH's brand or resources, elevating doctors to the C-suite is within their span of control. This straightforward strategy may improve hospital culture and, with it, physician job satisfaction.
5. When in doubt, turn to physicians' ratings.
MGH and BWH are both AMCs in the same metro, and even report to the same parent organization with the same physician leaders. Yet their ratings differ significantly.
Ultimately, job satisfaction is nuanced, and while macro-level trends do exist, exceptions abound. Formulas shouldn't be blindly mapped onto every U.S. hospital, and as trends and ratings change over time, turning to doctors' reviews is invaluable.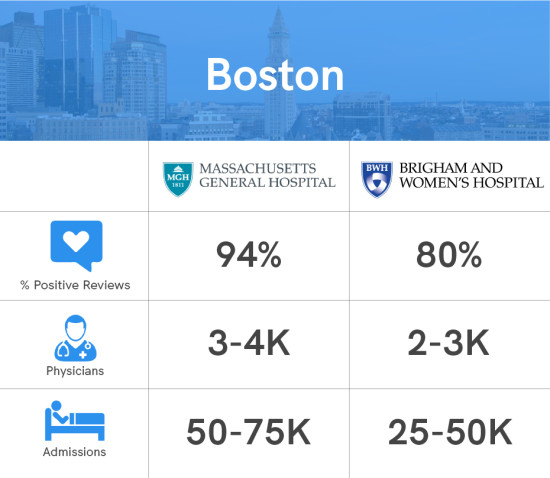 "Working at

MGH

is like being a part of a large family. The culture of everyone working toward the best patient care is truly amazing. Like any large organization, there can be some bureaucracy, but most of that comes from MGH being part of a larger system/network."

-MGH physician
"I started just prior to COVID and, while it's been a very tough year, the Urology Division has been incredibly thoughtful, caring, calming about just trying to get things done, get things done safely, and not worry about the bottom line."

-BWH

physician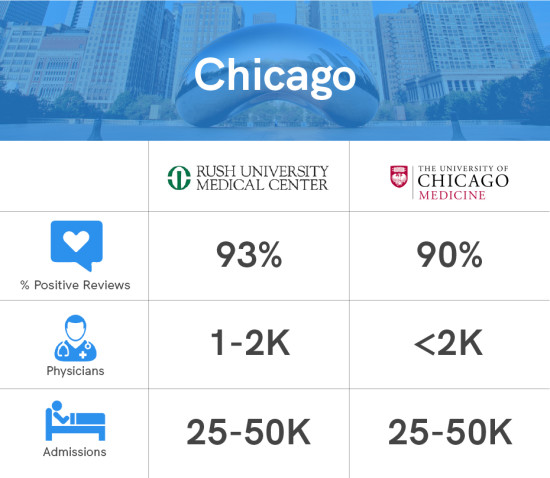 "There is a supportive atmosphere of collegiality at

Rush. The institution wants you to succeed. Compensation is not the best among its peers but your happiness at work makes it worth it."

-Rush physician
"The University of Chicago

prides itself with outstanding achievements in many fields, including of course Medicine. Although the practice has been heavily influenced in the past several years by the pressure of remaining profitable, it still is a beacon for intellectual rigor, uncompromised quality of care and cutting edge research."

-UChicago physician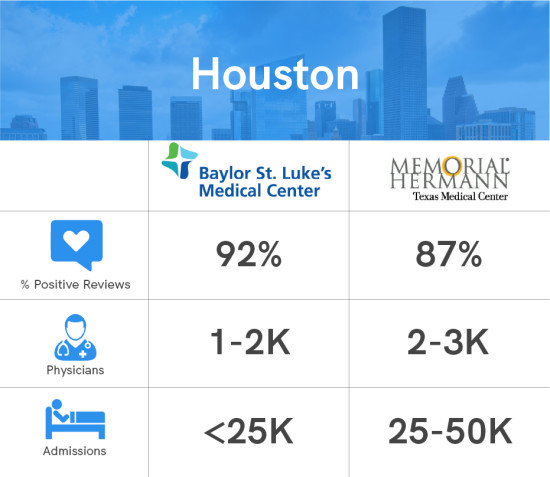 "Overall a great place to work. Leadership has really made strides in the last few years to improve morale and staffing, seems to address physician needs, has up to date equipment and EMR."

-Baylor St. Luke's

physician
"Busy and easy to admit patients. High quality care. Great location for practice. Scheduling surgery is occasionally difficult."

-Memorial Hermann

physician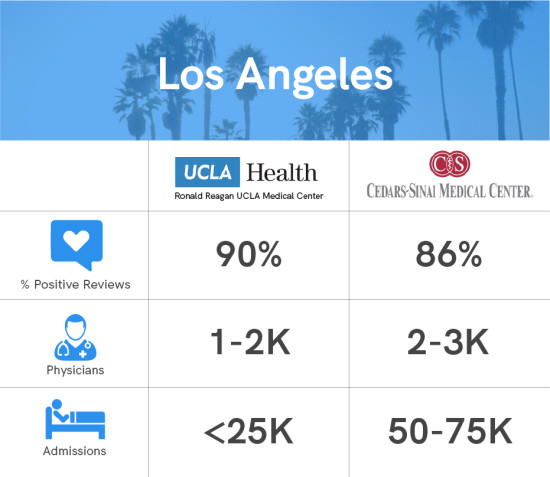 "It is a luminary place to work. It has all the expected bureaucratic frustrations, but the concentration of talent makes it a unique work environment."

-UCLA

physician
"Pros: Great facilities and equipment; Superb nursing staff; Excellent administration; Physician well being a priority; Top-notch research Cons: Large environment so occasionally administrative issues are difficult; Being not near a freeway makes patient access somewhat more difficult."

-Cedars-Sinai

physician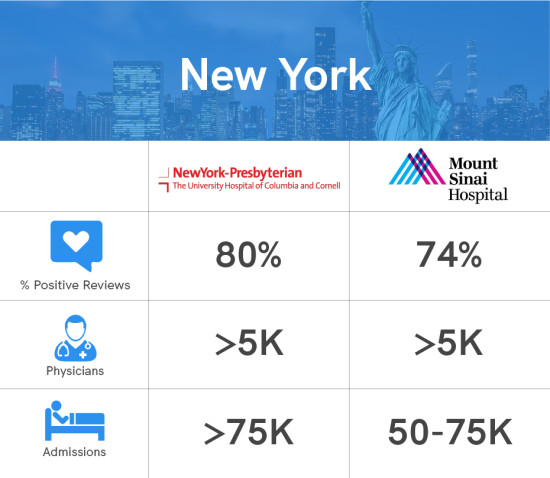 "NYP

allows me to practice in the truly best interests of my patients and families."

-NYP physician
"Excellent sense of camaraderie with world renowned experts in various specialties focusing on delivering highest level of care"

-Mt. Sinai

physician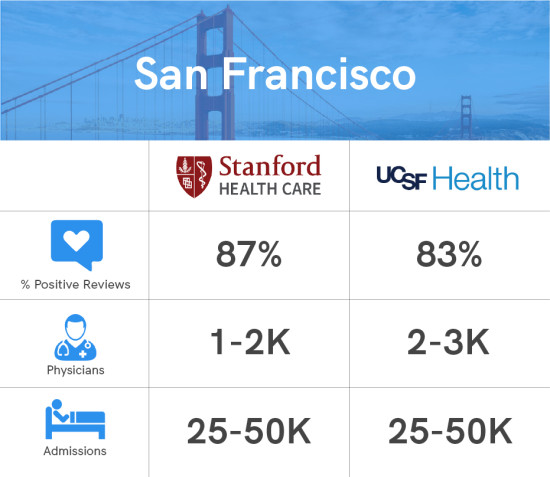 "Being able to work with such an incredibly bright, kind, and diverse set of colleagues gives me great job satisfaction."

-Stanford

physician
"It has been a pleasure to work with a complicated population that is cultural, racial, and socioeconomically diverse."

-UCSF

physician
Footnotes
1. Reviews were categorized as negative (1 or 2 stars), neutral (3 stars), or positive (4 or 5 stars). Cities ranked similarly when ordered by: a) negative review percentage; b) positive review percentage; or c) average star rating. For simplicity, we therefore show only one of these methods for each analysis, and describe the top [or bottom] performers as "most [or least] satisfied".
2. Metropolitan area designations reflect Census definitions of Core Based Statistical Areas (CBSAs).
3. Seattle, not shown in the figure, had over 20% negative reviews.
4. Procedural specialties include: anesthesiology; obstetrics & gynecology; orthopedic surgery; general surgery; thoracic surgery; ophthalmology; otolaryngology; urology; vascular surgery; neurosurgery; plastic surgery; and other surgical subspecialties. Non-procedural specialties include all other specialties. Pediatrics and pediatric subspecialties are excluded.
5. "Early-career" doctors are under five years post-residency, "mid-career" doctors are 5-15 years post-residency, and "late-career" doctors are over 15 years post-residency.